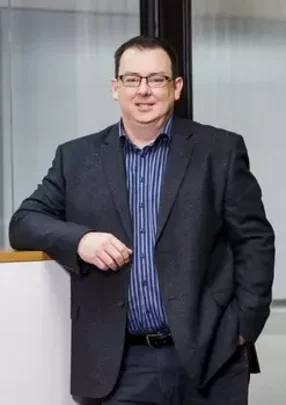 Alexei Simm
Project Director of Probuild Constructions
Building a legacy for the future as his team at Probuild shape Melbourne's sustainable skyscape
What will your legacy be? Most of us are living more and more in a virtual world, so it's refreshing to speak to Alexei Simm, Project Director of Probuild Constructions, who can show his family the bricks and mortar result of a day's work.
It seemed inevitable that Simm would go into the construction industry after he stepped on a nail at the age of four whilst on-site with his father, also a commercial builder.  Not long after, he was building LEGO skyscrapers, growing up in the home his father had built. He is now working to redefine the skyline of the southern Australian city he grew up in.
"I've always loved building, I've never really known anything else," said Simm. "I'm the child of a building family. My dad was a commercial builder and every home we lived in we built," said Simm speaking from his home office which - you guessed it - he built.
"I like building - a lot," said Simm, who joined Probuild in 2011 and like all Melburnians has just endured six lockdowns and more than 267 days under restrictions during the pandemic, used his leadership skills to keep building with his dedicated team.
Probuild is one of Australia's largest construction companies with a national pipeline of projects worth AUDS$5 billion and an annual turnover of more than AUD$2.0 billion and has worked on landmark buildings which include Aurora Melbourne Centre and The Greenland Centre in Sydney. 
"As leader of our project teams and wider teams, which include direct construction workers and subcontractors, you have to be a coach, mentor, problem solver and a sounding board. It has never been more important to look after our people.
"Having grown up and studied construction in Melbourne and to be now working on a skyline which is changing rapidly to become one of the more recognised 'Manhattan' high-rise skylines in the world is really exciting. We're constantly being challenged with new issues to solve, new technologies to incorporate." 
Alexei cites Tony Isaacson as one of the formative influences in his early career in construction, describing him as driven, construction-detail oriented, a devotee of historical building methods and systems, hard to get to know, and extremely thoughtful and loyal.
The focus of living and working from home during the pandemic is forcing the five million Melburnians to view real estate with new eyes as they plan a sustainable future of hybrid working - but unlike other cities many are keen to stay in the city which is good news for Simm. 
"There is not such an emphasis to move into the suburbs as we transform Melbourne into a '20-minute city' to live in, work in and shop in," said Simm who also has no plans to leave a city he has played a hand in shaping for future generations.
Read the full story HERE.